Special Report: Building the Business Case for More Sustainable Hospitals
Date: 3/13/2015 - 12:00 am
-
Keith Sutter
March 12, 2015
Practice Greenhealth
Support for sustainability among health care professionals is significant. A recent global Harris Poll survey commissioned by Johnson & Johnson found that more than three-quarters of health care professionals across six countries believe sustainability initiatives protect staff, and nearly 70 percent agreed they make business sense.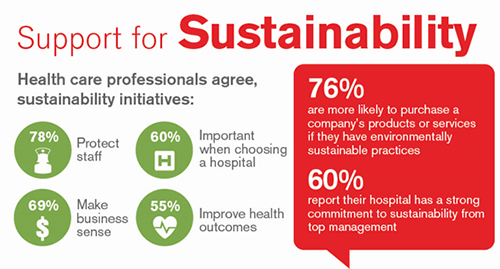 How can health care professionals translate this support into action, and build an effective case for investments in sustainability within their organization?
Answers are explored in a newly-released report from the Wharton-led Initiative for Global Environmental Leadership (IGEL) and Johnson & Johnson. Greener Hospitals: Building Consensus for Health Care Sustainability looks at best practices and challenges when it comes to developing, and communicating, the business case for sustainability investments across the health care industry. The report hones in on a few key themes...